"The doctrine of boring data serves political ends". Edward Tufte, The Visual Display of Quantitative information
Data is not boring. Data can explain social and economic trends and start new conversations. Data can inspire new ideas, and it can test how they work. Data can challenge those in power. Data can change the world.
Those who work in think tanks understand the power of statistics, but they need to challenge the doctrine of boring data. When think tanks present their ideas and research in original and compelling visual ways then they can show how public policy and the choices of those in power affect us all. They can show that change is possible –and, often, why it is necessary.
The power of presentation 
After working as a nurse in the Crimean war in the 1850s, Florence Nightingale returned to Britain to become a passionate campaigner for healthcare reforms in the British army.
She developed the coxcomb graphs above which highlight unsanitary conditions as the primary cause of mortality in the war. Their use in reports to parliament and Queen Victoria as well as in public campaigns led to greatly improved conditions.
Below is a more recent example:
One of things that makes this visualisation so compelling is the social context in which this data sits. There are narratives that already exist in the mind of the viewer and the visualisation builds upon them, confirms them or contradicts them. It's data that we can relate to and affects us. This visualisation presents information that is rarely exposed in its full picture allowing viewers to get a sense of perspective of areas of spending in relation to others, rather than cherry-picked stats giving intangible and un-relatable figures for one area.
Narrative and context are important. Is your visualisation going to fit within a report? Is it for use in social media? Or for a presentation? Is it intended to hammer home a single point or to open up a set of complex statistics?
Ellen Taylor at Soapbox created the following visualisation as part of a suite of infographics for the Sri Lanka Campaign for Peace and Justice. It is a good example of a graphic which hammers home a particular point. It was designed to be shared across social media, so it uses strong colours and simple shapes.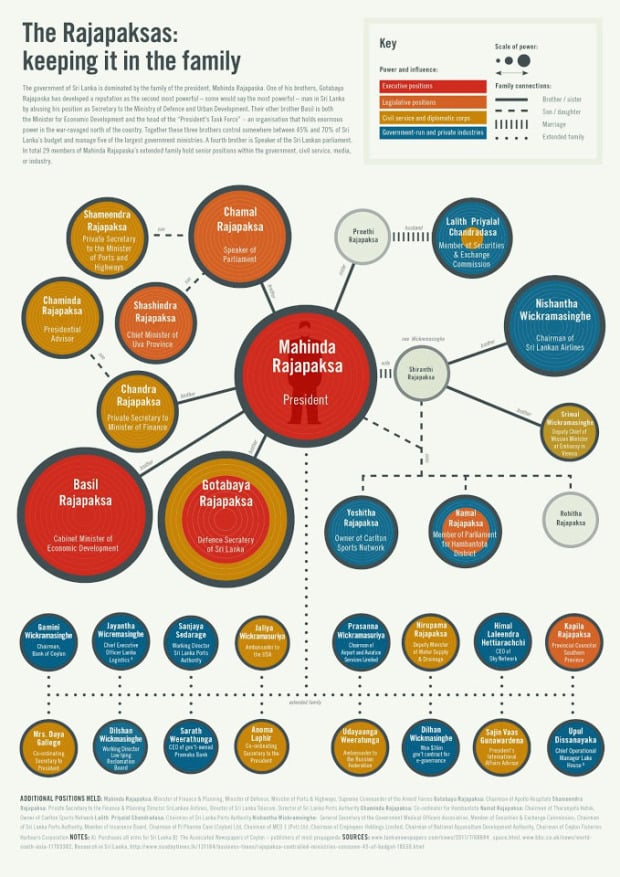 Movement and sound, whether in film, animation or even in a presentation, bring in an extra layer of meaning which you can use for narrative and explanation
Hans Rosling's bubble chart presentation on changes in wealth and longevity across the world over the past two centuries makes a huge amount of statistical information immediately comprehensible and allows a clear historical narrative to emerge (for example, the dips in Europe that occur in the late 1910s and early 1940s).  It's a great example of how data visualisation can work in a presentation and within a narrative.  Prezi is a simple (and free) way to bring movement and narrative to your data.
It is not all about presentation
What's less visible but at least as important is the work that must have gone into collating and processing the statistics in Rosling's presentation. Getting good data, analysing and contextualising it is by far the biggest job when creating data visualisations. Before you try to create a mind-blowing graphic – it's nearly always worth creating more straightforward graphs from your data in Excel – these will help you get a much better idea of what your numbers are telling you.
Narrative and context – using the data to support your policy position – needs to be balanced with transparency – opening up data so that users can examine and even challenge your findings.
It will often be impractical to present large data sets in print and making them available to download as spreadsheets might not be very helpful to users. But online applications can unlock big data sets and allow users to really delve into them and generate their own comparisons and draw their own conclusions.
Open source resources such as Google Charts and Datawrapper can help you do this inexpensively and within your own website. Check out Centre for Cities for an example from Soapbox.
Good data empowers individuals, communities and campaigns. It adds force to ideas and the weight of evidence to policy proposals. When we make data more intelligible, compelling and transparent through visualisation we multiply its power to create change.
The On Think Tanks Data Visualisation Competition is a great chance for developing country think tanks to challenge the doctrine of boring data. I'm excited to see what you come up with.