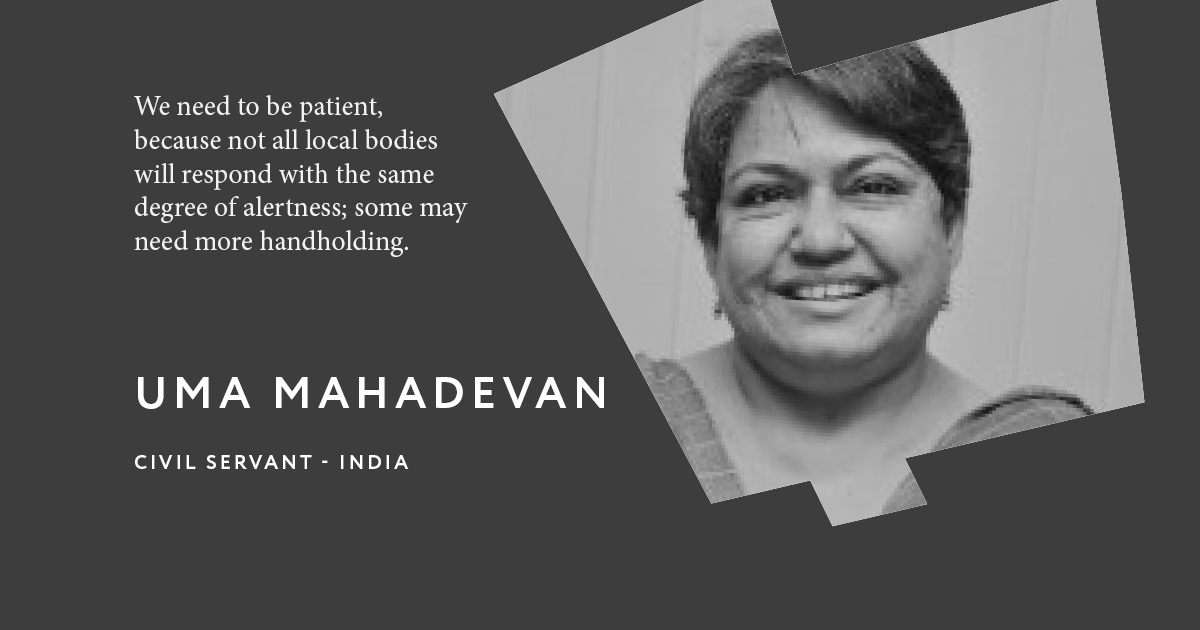 Welcome to our interview series featuring changemakers across Asia, where we delve into policy and change processes that are shaping the region. In this edition, Annapoorna Ravichander, Executive Director of the Public Affairs Foundation in Bangalore, India, engages in a conversation with Uma Mahadevan, a distinguished civil servant from the Karnataka Government. 
In this insightful interview, Uma Mahadevan sheds light on the inspiring journey of designing and implementing a rural library initiative, emphasising its evidence-based approach and impact on local communities. 
Twitter: @readingkafka
Question: Kindly introduce yourself
I am a civil servant in India with over thirty years' experience of working in the Indian Administrative Service. 
I have worked in diverse sectors in the state and central government, including rural development, decentralisation and local governance; women and child development; disability; agriculture; planning; education; and health. 
I serve in an honorary capacity on several committees and non-profit boards. I have recently served as a member of the Taskforce on Early Childhood Care and Education. 
Q: Can you walk us through the process of designing and implementing your rural library initiative? How did you ensure that it was evidence-based and responsive to the needs of local communities?
A: The State has a network of around 7,000 libraries, of which over 5,600 are rural libraries. In 2019, these were handed over to the Department of Rural Development and Panchayat Raj to be operated by rural local bodies as a further step in decentralisation. 
During the COVID-19 pandemic, in 2020, we saw the readiness with which rural local bodies came forward to lead the COVID response in their communities. We decided to revive the libraries as part of these efforts, to help rural children stay connected to reading and learning. 
A children's section was set up in each library, the buildings were renovated and made child-friendly, and all rural children were enrolled free. In two years, over 3.4 million children have been enrolled; over 1.1 million books collected as donations; and 4900 rural libraries have been renovated. The library hours have been extended to six hours daily. Comprehensive training programs have been taken up for the librarians. 
Revitalisation of rural public libraries is now an important initiative of the state. Through the revitalisation project, our department is energising the rural libraries and expanding their role as local information Centres, making them spaces for socially inclusive, multi-disciplinary and multi-generational learning.  
Q: Did you face any challenges in mobilising resources and securing political support for the initiative? If so, how did you overcome these challenges?
A: One of the challenges we faced was that we were taking up this initiative during the COVID-19 pandemic. However, that turned out to be an important reason for its success, especially providing the initial momentum. 
Due to school and college closures, rural children and young people needed a way to stay connected to learning. Girls and children from marginalised communities, especially, needed a safe space to read and study. Rural libraries stayed open, following COVID precautions, and thus became an important space where rural children could continue learning.
Another challenge was to get the involvement of rural local bodies. To achieve this, we kept the guidelines for library renovation very open and flexible, allowing the space for local ownership of the project. 
The response was tremendous. Rural local governments started designing their library renovation in different ways: not only the design of the buildings and furniture, but also adding child-sized sofas, bean bags, indoor plants, murals with inspirational quotes, and altogether making the libraries attractive places to visit.  
Q: How do you measure the impact of your rural library initiative? How do you use evidence to refine and improve the initiative over time?
A: At present we have created active networks of librarians and users on social media, including WhatsApp and Telegram, to share information about library activities and suggestions. We have also developed partnerships with several civil society organisations who are regularly working with libraries and providing regular updates on the work. 
As the scale of the response has been tremendous and unprecedented, we are now developing a distributed e-library management platform which will track collections, membership, and usage. 
Q: What advice would you give to other policymakers and practitioners who are interested in implementing evidence-based policies and initiatives at the grassroots level? What are some key lessons you have learned from your experience?
The first lesson that I learned from this initiative was that local governments have considerable capacities and imagination! Their involvement and ownership of decentralised institutions can transform service delivery. 
So, the first things I would say is that we need to trust our rural local bodies. Along with trust, we need to provide support in the form of enabling guidelines, action-oriented training, and regular experience-sharing. The best learning is from their own peers. Exposure visits are crucial in showing how much good work is possible. 
We also need to start with large pilots: small pilots can fizzle out, but a large pilot can give useful information on what works, so that it can quickly be taken to scale. 
We need to be patient, because not all local bodies will respond with the same degree of alertness; some may need more handholding. 
Finally, the involvement of grassroots civil society organisations provides the necessary quality and innovation focus.