The first On Think Tanks Conference in the US was held on June 25 2019 at the World Resources Institute in Washington DC. The conference brought together  thinktankers, think tank scholars, policy entrepreneurs and funders to discuss issues such as public engagement, evidence and values, think tanks and social movements, and diversity and inclusion within think tanks.
The On Think Tanks Conference: Washington DC was the most recent in a series of events held around the world where participants share experiences, present their research, co-develop solutions to common challenges and establish new and strengthen old partnerships.
The On Think Tanks Conference: Washington DC was designed and delivered in partnership with  MediaTank Productions,  New America,  Soapbox, and World Resources Institute(WRI).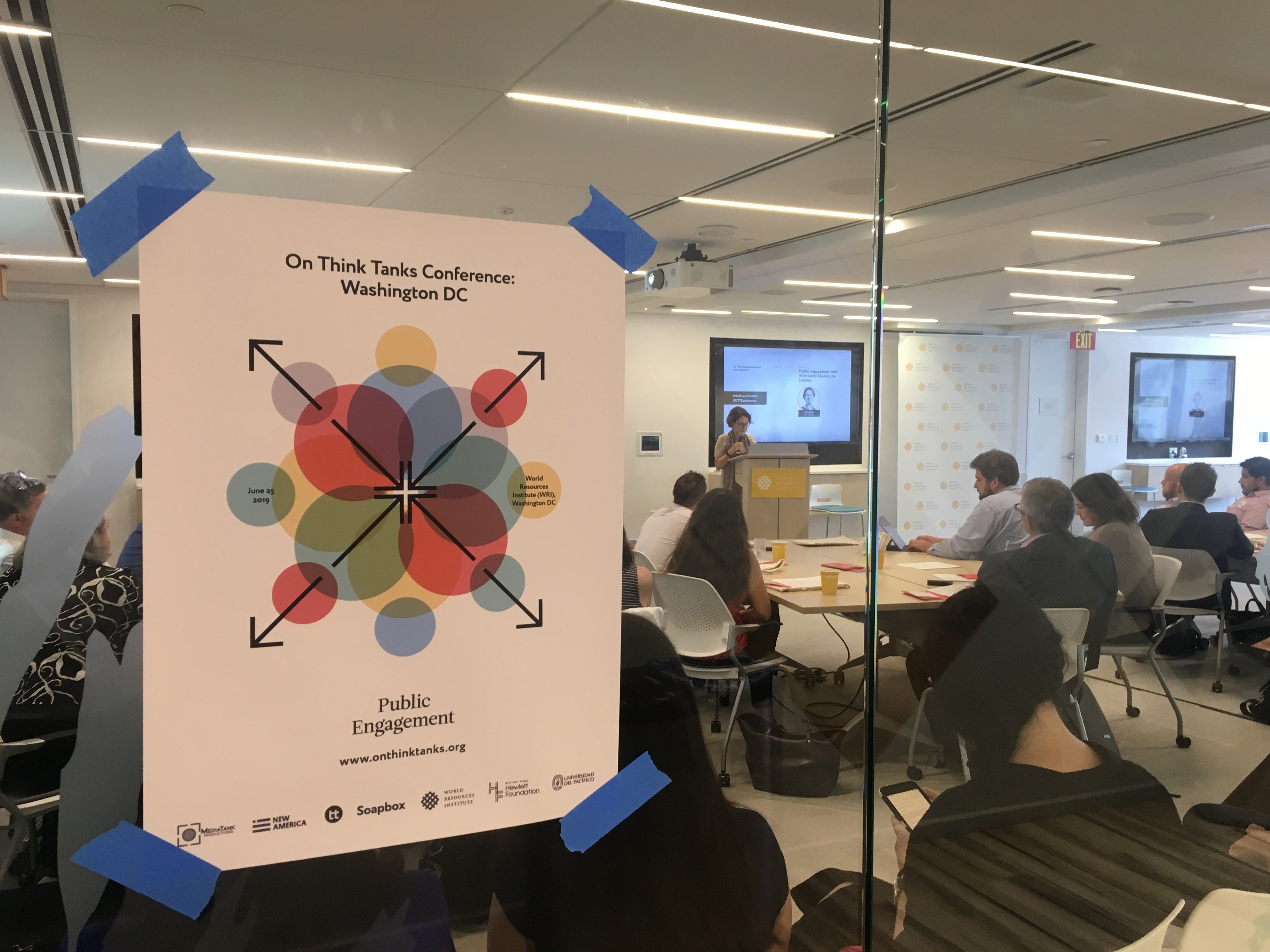 What did we learn?
The OTT Conference in DC, like all other OTT events, was an opportunity to explore ideas in an open and engaging way.
The three keynote speeches focused on the overarching issue concerning the meeting: public engagement.
Speaking from different perspectives, Lawrence, Cecilia and David, spoke of the need to reach out beyond traditional audiences and presented alternative approaches to do so.
For Lawrence and WRI, global leaders are still the key agents of change. They can be mobilised to bring about systemic change across their sectors (e.g. if the leading corporations in a sector change their supply chains to incorporate more sustainable practices the effect can be far reaching and systemic) and to act as interlocutors, through their own networks of influence, with a broader public.+
For Cecilia, think tanks need to make the case that they are "of the community" but, at the same time, intellectually independent. Public engagement is aided by the relative proximity of think tanks with the people and the problems that they study and attempt to give voice to. Echoing Anne-Marie Slaughter and Ben Scott, who wrote Rethinking the think tank, she argued that new think tanks need to rethink their business models considering who they wish to truly engage:
We propose a new model of civic enterprise. 'Civic' because it engages citizens as change makers—conscious members of a self-governing polity that expects government to be at least part of the solution to problems that individuals cannot solve on their own. And 'enterprise' because of the energy and innovation involved in actually making change on the ground.
David, who used to lead Brooking's communication, placed a greater focus on the role and the strategies of think tank communication functions. Supporting Cecilia's argument, he felt the model of think tanks is under incredible pressure. The events organised by Axios or the Atlantic look and feel like a think tank event; the New York Times and Vox produce excellent explanatory videos; and Netflix, HBO and Amazon produce documentaries on a wide variety of subjects, many of which have been traditional think tank territory. In a context in which think tanks are fighting to get a bigger audience, the role of the media (Atlantic, Vox, Netflix) is gobbling up their traditional audiences. So, since influencers (and those think tanks want to influence) are getting their information from a much wider set of sources with whom think tanks would find very hard to compete, what should they do?
Don't abandon partnerships but insist in retaining your identity – link back to Brookings.
Think tanks need to get better about identifying who they are trying to reach, how and with what.
Communication teams need to have a seat at the table in deciding what to work on and how.
Their full speeches can be watched below:
The parallel sessions offered an opportunity to explore other issues in greater depth. Of great significance was a discussion on diversity within think tanks, convened by Brigid Schulte (New America) and Renuka Iyer (WRI). Equally relevant were the presentations by Gretchen Goldman and Nat Kendall-Taylor addressing the challenge of engaging with both "Hearts v Minds".
An interesting, and rather surprising, finding for us was that many of the participants claimed that there were very limited opportunities for DC think tanks tanks to come together in this way. Our assumption coming into this conference was that we'd be competing with many other opportunities for networking and reflection. Instead, although many meet each other in thematic events and socially, the spaces to think about how think tanks work and what individual thinktankers do are rare.
What next?
The immediate outcome of the On Think Tanks meeting in DC was the launch of the local chapter of WonkComms, a network of think tank communicators. The first Breakfast Club event was held soon after, in July, focusing on leveraging the news cycle.
At On Think Tanks we look forward to hosting future conferences and leveraging DC think tanks' expertise to support others across the world.